scratching the surface of the spinning globe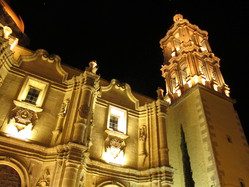 Pablo proposed pick me up with his truck, but I wanted to cycle all the way way to his house. Just as I arrived in the center of Durango, sprinkled with severe road bumps, the front rack went into the wheel again. Luckily the spokes were not too damaged, but this time the rack was pretty badly damaged.
With his father, Pablo helped me finding a workshop which could solder aluminium. After asking at a few places, we found a 'taller de califacion' who could do it. I watched the man carefully unbending the rack and soldering it as well as he could. After a few minutes, my old rack was looking almost as new again. And Pablo had a spray of black paint. Great, a recycled rack!
We went in town with Pablo and his girlfirend Annahad some delicious tacos, before I went to crash in my confy bed at Pablo's house. Even after a good night, I was still a bit tired, and feeling way too confortable at Pablo's house! So I asked him if I could stay one more night. "Of course!" he said. ... more
»
«