scratching the surface of the spinning globe
»
«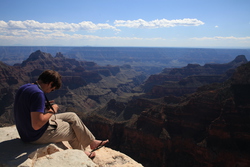 We arrived at the North Rim of Grand Canyon early in the afternoon, after a beautiful drive across the border of Utah and Arizona. Just as we reached Bright Angel Point from which the giant hole can be observed, the sensor of my camera decided to give up and finally died. It had been pretty beaten up already, after only 6 months of heavy use, but it was a little bit frustrating to be in such a magnificent and famous place without something to take a picture.
We started going down the 1800 meters drop along the North Kaibab Trail, passing by Conttonwood Creek, and arriving in the dark at Phantom Ranch. We finished the 22 kilometres at night, crossing the already quiet Bright Angel Creek Campground, and finding a nice spot to spend the night under the stars, overlooking the Colorado river.
The night was surprisingly warm, compared to what we were used to in Utah in the past few days. Agitated too. First a fox, then an intrepid raccoon all wanted to steal some food from my backpack. Both seemed to really like my loaf of bread, and in the morning light, we could watch mother and baby raccoons starring at us with hungry eyes, just a few meters away.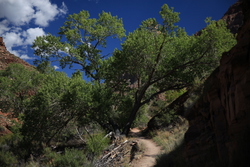 We started climbing up at 7:00 the next morning, but it was already late and hot. Going down from the South Rim, the first mules were already reaching the river before we left our campsite, and we met them again unloading copious amounts of beer at Bright Angel Campground. Xavier generously lent me his camera on the way up, and I took plenty of time to experiment with this powerful SLR.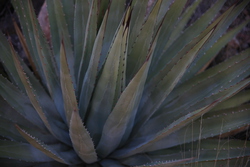 The trail is not less impressive going upwards than going downwards, and I often wondered how could someone think about building a trail in the middle of these cliffs. We stopped for lunch in front of the Roaring Springs, where Joy, a Californian girl in her forties, stopped for a sip of soup. She sounded a little bit tired, but we soon stopped wondering why: she started hiking this morning at 4:00 ... from the South Rim!
We finished climbing together, up and across the amazing changes of vegetation and rocks together and gave her a ride for a well deserved rest at the North Rim Lodge. We kept driving North into the dusk, meeting plenty of dears in the North Rim forest, and up to the entrance of Page, the village near the Glen Canyon Dam that forms the Lake Powell.