scratching the surface of the spinning globe
People
On this page are gathered a few links and pictures of some of the travelers I met on the road.
Cycling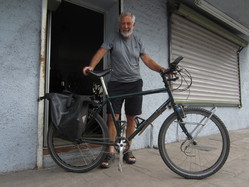 Steve
Steve from Birmingham, in his sixties, travels 6 months a year on his bicycle. We met in La Paz when he popped in Baja Challenges to get help fixing his Rohloff hub. Unfortunately I couldn't help him much, but he invited me for a couple of coffee and we had a nice time chatting about traveling and cycling.
http://tarpot.wordpress.com/ - met in La Paz, Baja California, Mexico, December 2011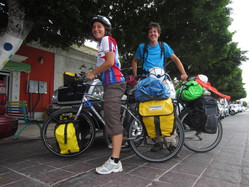 Martina and Monika
Martina and Monika cycle north from Patagonia to Alaska. I met them in La Paz, just a few days before leaving.
http://colorfish.wordpress.com/ Martina's blog
http://ufemvelo.blogspot.mx/ Monika's blog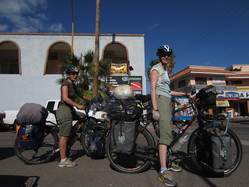 Pedal across the Americas
Somewhere on Route 1, in California, the tenant of a shop gave me the flyer of the project P.E.D.A.L. Across the Americas, mentioning they were only a couple of days ahead of me.
Two months later, I met Emilie and Rafael in La Paz! They were staying at the Pension California, and we had a nice evening sharing a few drinks and talking about everything.
http://pedalacrosstheamericas.com - met in La Paz, Baja California, Mexico, December 2011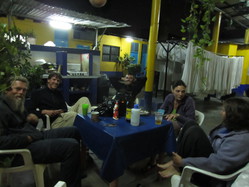 Chrigi On Tour
Christian has been cycling for at least the past three years. I met him in La Paz, in the Pension California, and hope to see him again, somewhere in Mexico maybe!
http://chrigiontour.blogspot.com/ - met in La Paz, Baja California, Mexico, December 2011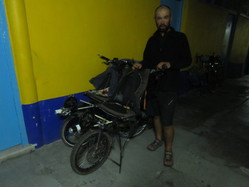 À chacun son chemin
Arwen, Elouan, Alexan, David and Annick had been traveling from Edmonton, Canada when I met them in La Paz. Three months earlier, in Yellowstone, I saw them from far, passing by in Grant Village Campground!
Together with Eric, Gaélle, and their family, we spent an evening chatting at the Pension California in La Paz. I was fascinated to listen to these two families. I hope I get to see them again on the road!
http://a.chacun.son.chemin.over-blog.com/ - met in La Paz, Baja California, Mexico, December 2011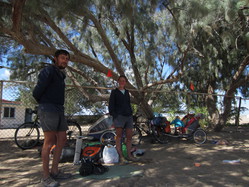 Éveil Nomade
Eric and Gaëlle and their two kids Tiago and Lilou have been travelling by bike since October 2010. We first met on route Number 1, pass Guerrero Negro, then a few days later for a couple of Tacos in La Paz.
http://eveilnomade.fr/ - met next to Guerrero Negro, Baja California Sur, November 2011
Rodrigo de la Puente Garcia
Rodrigo started from Ushuaia in February 2011, rode his bike all the way back to his home in Mexico City, took a plane to Anchorage and pedaled south.
We met in San Ignacio, on a sunny morning, and shared the road all the way to La Paz, although I kept loosing him, he is really fast. It was really touched to share a few of the last kilometers that he were separating him from his home.
After less than 10 months and 30.000 km, he is now back in Mexico City.
http://www.rodadventure.com/ - met in San Ignacio, Baja California, Mexico, November 2011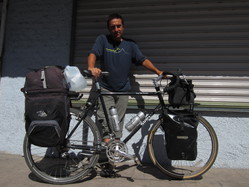 Dominic Poggi
Since one or two days, the truckers I met on Route 1 in Baja were telling me about 'my friend' that was 'not very far' ahead of me. When I arrived at this restaurant a few kilometers pass Santa Rosalia, I saw dominic's bike outside. It was a windy day, and we ended up sleeping not so far from here, in a Café on the road next to Guayaquil.
A few days later, we met again in La Paz and went snorkeling with a whale shark. Dominic came down cycling from Chicago, and is since arrived where he had planed to finish his tour in Mexico City.
Dominic photo albums — met in a small café between Ensenada and Santa Rosalia, Baja California, Mexico, November 2011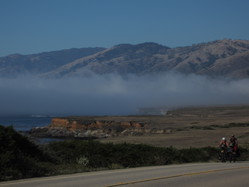 Babs and Achim
While chatting with Fabien in Ragged Point, Barbara and Achim, two german fellows, joined us. They also plan to cycle all the way to Ushuaia.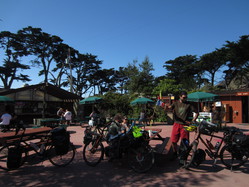 We cycled a few kilometers together, visiting the sea lions on the beach. We had a great time and still have a long way to go, so I hope I will meet them on the road again!
http://www.freiheitsdurst.de - met in Ragged Point, California, USA, October 2011
Fabien
Fabien, on his recumbent bike, was the first person touring by bike I had a chat with after starting pedaling. We met close to Ragged Point on Route 1 in California. He cycled all the way from Vancouver, and has now finished the first part of his trip in Los Angeles.
http://www.2roues.over-blog.com - met in Ragged Point, California, USA, October 2011
Hiking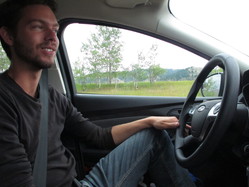 Xavier Goergler
While in Jackson, Wyoming, hosted at the wonderful house of Meggan and her house mates, I was browsing the CouchSurfing website when I saw Xavier's profile. I left him a message, and a few days later, received a phone call. He was back from a few days hiking in Yellowstone, and after no more than two coffees, we decided to share the road together.
Xavier goes around the world shooting documentaries about major risks such as flooding, earthquakes, eruption or hurricanes, in the French High School across the planet. We met close to the biggest volcano in North America and split a few days before a small earth quake in San Francisco!
We shared the road from Jackson Hole, Wyoming, all the way to San Francisco, Xavier first drove us to Salt Lake city, the start of two fantastic weeks in beautiful Utah. We went hiking in Arches National Park, down the Grand Canyon, canyoneering with the people from Salt Lake City, hiking in Zion National Park, partying in Las Vegas, across the Death Valley, and all the way to Frisco!
http://www.riskaroundtheworld.com/ - met in Jackson, Wyoming, USA, September 2011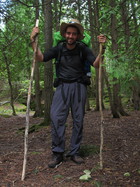 Raphaël Eismann
On the Bruce Trail, in the middle of the giant forest of the Bruce Peninsula, Ontario, Canada, I bumped into Raphaël. He started hiking and hitch-hiking around the Americas in summer 2011.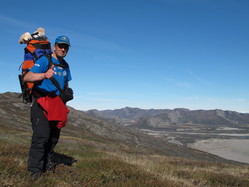 Carlos
Carlos joined us on board Vagabond in June 2011, in Narsaq. It was great to sail for two weeks with him along the West coast of Greenland. Together, from Kangerlussuaq, we went hiking for two days to go to see the ice sheet.
http://www.chefcarlos.org/ - met in Narsaq, Greenland, June 2011