scratching the surface of the spinning globe
»
«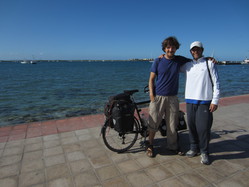 I had an amazing time in La Paz, but now after more than four weeks here, it was time for me to keep moving. So I went back to the Club de Cruceros, and spoke to look for a ride.
I made a lot of friends: Miguel, Arturo, Maurizio, Ricardo, Julio, Zoydeth. Networked with many, many cyclistas: Rodrigo, the two French Families, Éveil nomade and À Chacun son Chemin, Dominic Poggi, Chris from Switzerland, Pedal across the Americas, Steve from Birmingham. Connected with many couch surfers, Eduardo, Matthew, Jesse, Cristian. Visited Zulu, Bryan and Marlene's beautiful wooden boat. And I also had the time to pass my PADI with Josiane, thank you Josiane!
As a bonus, the morning after I got back from Cabo Pulmo, I received my fixed camera, two months after it broke down in the Grand Canyon, and just in time for Isla Espiritu Santo. Thank you Lauren!