scratching the surface of the spinning globe
»
«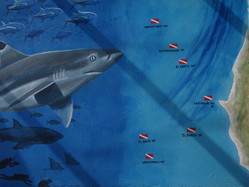 Jesse, who I hosted me in La Mision, contacted me as he was driving south towards La Paz. He arrived one or two days later and we went together for diner with friends of him. With couch-surfers Eduardo, from La Paz, and Matthew, from Chicago, we went to camp on the beach.
The weather had been a bit rough for the last few days, and several divers were already waiting for the sea to calm down to go diving. We showed up the next morning and Mario told us we should be able to go!
We just had enough time to eat breakfast and learn how the delicious Agua de Jamaica is made, from the fresh plant to the final product.
The two 40 minutes dives were amazing! We saw a school of skipjacks (jureles), meros, stingrays, and even spotted a bull shark (tiburon toro)!