scratching the surface of the spinning globe
»
«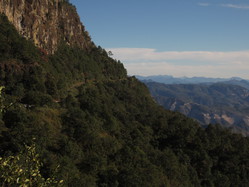 It took a good five days to climb from the harbour of Mazatlan to Durango. Everyone wanted to support and help me on the way, and I was offered hugs, coffee, or food, almost every time I stopped on the way up!
At Llano Grande, I was hosted at the wonderful house of Maria del Carmen, the grand mother of Jorge. From the picture taken of his screen in Mazatlan, I could find the house of Carmelita! We had a great night in their beautiful house.
This stretch in the mountains is gorgeous, and tough too. It took me a full to climb from 200m to 1550m, cycling only 40km. Speed record broken, 60.3km/h. With a 40kg+ bicycle, it moves and shakes, a lot! And cold at night up there, I found frost on my tent. It was well worth every bit of it though, with landscapes changing from semi tropical forest to pine trees, lush green valleys, all the way to the large plains of Durango.
Arriving at Pablo's house was memorable, since my front rack decided to go into my wheel again, right when I arrived in the center of the city. Thankfully Pablo was here to carry my front panniers all the way to his house!