scratching the surface of the spinning globe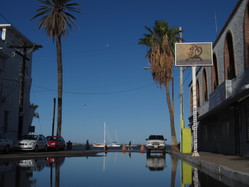 I had planned to stop for a week or two to get some work done, working remotely as a freelance developer. For the first few nights, I was camping in Miguel's garden, but Miguel soon proposed me to stay at his shop. So I had my couch in a room full of bicycles, roller skates, and ... longboards! And of course all the tools I could ever need to tune my bike. All of that at twenty meters from the beach. A dream!
So for the next two weeks, I would be opening the shop in the morning, attending the early clients to rent them bicycles or some other wheels. And in the afternoon, I would go get some more work done, connected from some café on the Malecón.
Brewing freshly grounded coffee, chatting with Miguel and his friends, sharing lunch at the market, swimming in the sunset, skateboarding at dusk on the Malecón, star gazing from the desert... After eight months travelling, working my eight or ten daily hours was not hard in such conditions. ... more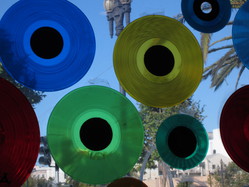 Guillaume and I both love music, and especially on records. We spent a few afternoons digging the crates in downtown Frisco. We first went to Rooky Ricardo's Records, on Haight Street, where Steve owns a large collection of Soul music, before skimming through various thrift store in Mission.
I couldn't resist and asked again to take a few portraits, as I did earlier in New York.
At Amoeba, probably one of the most famous record store on this planet, we found even more records. As I asked to take their pictures, James, from San Francisco, picked the phone to 'look busy', while Nick, from Los Angeles, kept his grin as he was sorting out my selection.
We also had a nice chat with Kelley at Grooves Vinyl Attractions on Market Street, in his beautiful shop full of gems made of movie soundtracks, instrumental rarities and other odd sounds.
With more than 30 records each, plus the ones I had found in Chicago and Madison, Guillaume left with a very very heavy bag loaded with vinyl.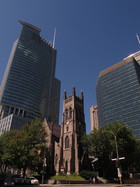 At first, I was thinking to go West towards the Finger Lakes, Niagara Falls, and Chicago, but Gerardo and Carlis, who live in Montreal, proposed me a ride to their home! So 12 years later, I was back in the city I lived in for one year in 1999. What a throwback!
Gerardo hosted me in his nice flat in downtown Montreal. We went cycling and skating along the Lachine Canal, swimming at the pool and even had a sauna! I went skating around the city, and it was great to see McGill University campus again, the buildings I use to study in, the stadium, the place we used to go ice climbing, the street I used to live in. I also had lunch with my fellow teacher from McGill Music.
After three nights in town, I skated down to the highway and started hitch-hiking. In just three rides, Abdel, who drives his truck around the Island of Montreal to deliver wood, Kim, who studies electric engineering, and Marc, who runs a car repair shop, took me all the way to Toronto. Marc even invited me for a drink on his boat in Pickering. I spent the night in downtown Toronto, in one of Dylan's beautiful loft, in the middle of the hip Liberty Village. Dylan was my first CouchSurfing host ever! We chatted until late into the night.
The next morning, I started hitch-hiking again for Tobermory, North of Toronto. Rick the fireman, Jay the mechanic, and Rosemary the book-keeper shared the road with me to reach the end of the beautiful Bruce Peninsula. Rosemary even made a 70km 'detour' to take me all the way to Tobermory.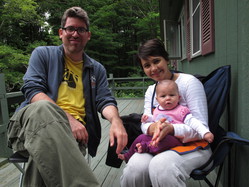 From downtown New York, I was kindly invited to jump into a huge car with Juan and Claudia, my friends from long time ago in London, their daughter Elena, and Juan's mother Carmen. We headed northwest of New York for about 5 hours to reach their beautiful house, next to a town called Delhi, not far from the Catskill Mountains. Carlis and Gerardo, two friends of Juan, also from Venezuela, joined us for the weekend.
We built a campfire, had brunch in the morning sun, and had an amazing barbecue. Carlis even showed me how to prepare the delicious arepas.
Coming straight out from Big Apple, the lush green, the silence, and the darkness of night around this beautiful house lost in the woods was an amazing and refreshing contrast with the busy city. From there, I thought I would be hitch-hiking West across upstate New-York, but that was before knowing that Carlis and Gerardo were coming.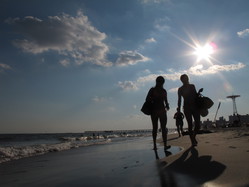 A lot has been happening last week in New York. Monday Michelle and I went to visit the Highline in West Village, an old metro line transformed in park, after spending some time in the art galleries of the meat packing district.
Tuesday, I skated across a few kilometres North across Central Park all the way up to Harlem. I was really moved to discover this neighbourhood. A lot of the music I listen to was made and performed right here. I went to pay a tribute to the famous Apollo Theater before heading to 'El Barrio', aka Spanish Harlem, looking for a few more records.
On Wednesday, I went with Michelle to Coney Island. It felt great to chill in the sun and have a swim in the warm Atlantic Ocean. Then we went across the cleanly vintage Luna Park and stopped at Nathan's to enjoy a hot-dog.
Thursday, I spent most of the day packing my records, my old laptop and my old sleeping bag, to send them to my brother in France. In the end, I sent about 75 LP records home. After two weeks on the Big Apple Planet, I was ready to take off to discover the rest of the country.
A big 'Thank You' to everyone here who hosted me, invited me for a brunch, spent the afternoon showing me the city, helped me tuning my longboard, or simply shared a smile.
«