scratching the surface of the spinning globe
»
«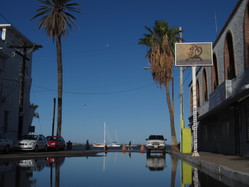 I had planned to stop for a week or two to get some work done, working remotely as a freelance developer. For the first few nights, I was camping in Miguel's garden, but Miguel soon proposed me to stay at his shop. So I had my couch in a room full of bicycles, roller skates, and ... longboards! And of course all the tools I could ever need to tune my bike. All of that at twenty meters from the beach. A dream!
So for the next two weeks, I would be opening the shop in the morning, attending the early clients to rent them bicycles or some other wheels. And in the afternoon, I would go get some more work done, connected from some café on the Malecón.
Brewing freshly grounded coffee, chatting with Miguel and his friends, sharing lunch at the market, swimming in the sunset, skateboarding at dusk on the Malecón, star gazing from the desert... After eight months travelling, working my eight or ten daily hours was not hard in such conditions.
One morning I went to check if I had a chance to find a sailing boat to get me and my bicycle across the Sea of Cortez. At 8:00AM, I was on time for the morning coffee served at the Club de Cruceros, and to listen to the 'net', the radio broadcast where sailors exchange weather forecast, announce meeting, trade goods, and look for crew.
Within minutes, I was talking with Jay, who was ready to take me aboard his Outrageous to cross Mazatlan. But he wanted to go in a few days, and it was a bit too early for me: I had to get some work first. So I declined his offer and left a note on the Club's posting board.