scratching the surface of the spinning globe
»
«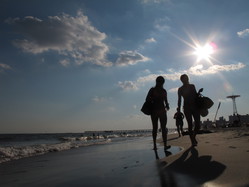 A lot has been happening last week in New York. Monday Michelle and I went to visit the Highline in West Village, an old metro line transformed in park, after spending some time in the art galleries of the meat packing district.
Tuesday, I skated across a few kilometres North across Central Park all the way up to Harlem. I was really moved to discover this neighbourhood. A lot of the music I listen to was made and performed right here. I went to pay a tribute to the famous Apollo Theater before heading to 'El Barrio', aka Spanish Harlem, looking for a few more records.
On Wednesday, I went with Michelle to Coney Island. It felt great to chill in the sun and have a swim in the warm Atlantic Ocean. Then we went across the cleanly vintage Luna Park and stopped at Nathan's to enjoy a hot-dog.
Thursday, I spent most of the day packing my records, my old laptop and my old sleeping bag, to send them to my brother in France. In the end, I sent about 75 LP records home. After two weeks on the Big Apple Planet, I was ready to take off to discover the rest of the country.
A big 'Thank You' to everyone here who hosted me, invited me for a brunch, spent the afternoon showing me the city, helped me tuning my longboard, or simply shared a smile.