scratching the surface of the spinning globe
»
«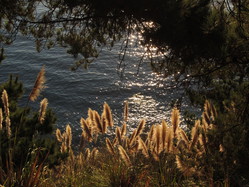 On Thursday, October 20th, I was ready to start cycling South towards Mexico. Guillaume had left the day before and I spent one more night at Studio G. From Mission District, I found my way outside of the city and kept pedaling along the cost, along Route #1, until after dusk.
For my first night camping with my bicycle, I found a nice place, a hundred meters from the road, just above a little cove. When I woke up in the morning, my bike had slowly lied down along my side in the soft and sandy ground, and the screen of the computer was saying 'sleep'.
For the next few days, I drove along the beautiful Route #1, slept on beaches and under pine trees, watched the Sun set over the Pacific and the surfers run into the morning waves.
It's difficult to describe how good it feels to glide silently on the roads, free from all other type of transportation, enjoy impressive views on the oceans, reach the top of a hill and discover the next stretch, decide under which tree to spend the night.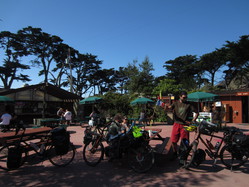 Route #1 gave me a strange feeling of deja vu, maybe because of one or two video games that I played when I was a kid. Only this time there was no engine noise, and I could choose the music.
On the third morning, I was still eating breakfast when I saw a recumbent bike with a French flag passing by. A few hours later, I arrived at Ragged point and met Fabien, how was coming all the way from Vancouver. Just a few minutes later, Babs and Achim, two German cyclists, were joining us for lunch.
We rode half a day together, stopping on the beach to watch sea lions, and talking about everything, especially travel and bicycles. Fabien was planning to stop in Los Angeles, while Babs and Achim will be riding all the way to Patagonia. It was great to share the road with them and I hope I will get to meet them again. For now, I had to rush South.
Almost 90 days after entering the country in New York, I had to exit the United States before October 27th. So after four days on the road and cycling a bit more than 400km, I took a bus from San Luis Obispo to Santa Barbara, then hopped onto a train all the way down to San Diego, just North of the Mexican border.