scratching the surface of the spinning globe
»
«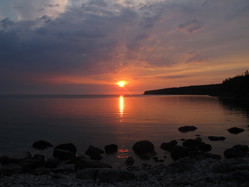 I hiked for three days in the Bruce Peninsula. The trail starts from Tobermory all the way to Niagara Falls, following the Niagara Escarpment for almost 900 km. I did only 60 of them, but enjoyed each and every of them.
Less than 10 km after leaving Tobermory, I met Raphaël, who is travelling around the Americas, hiking and hitch-hiking. He was walking in the other direction, so I went back a few kilometers and we pitched our tents next to each other. We spent a too short evening sharing our stories. I hope we will share the road again!
The Bruce Peninsula is bordered by Lake Huron, vast as a sea, covered by a beautiful forest, and home to quite a few black bears. I learned how to cook away from the tent, remove any smelly object in it, and hang all food in a tree at 3 meters above ground during the night. I didn't see any bear, but the last day on the trail, I could clearly hear a grumpy one, ten meters from the trail!