scratching the surface of the spinning globe
»
«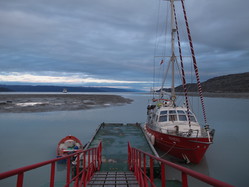 Lea and Vincent stayed in Nuuk waiting for their return flight as we were sailing North towards Kangerlussuaq. With only four of adults and two little girls, the boat suddenly felt really empty.
The fjords in this region are magnificent, with mountains raising more than a thousand meter above sea level. We passed the city of Maniitsoq and entered the 180 km long fjord. We had the currents and the wind with us and sailed it in half a day at 11 knots, twice faster than our usual speed.
After one month living on board, these were my last hours with Vagabond. I spent the night getting my things together and preparing my backpack. The crew of scientists landed in the morning, and embarked on the boat, while Carlos and I disembarked.
The tide was emptying the fjord, so it was a good time for Vagabond to leave. I shed a few tears hugging my brother, France, and my nieces, untied the boat and watched them leaving the little pontoon in this desolated harbour.