scratching the surface of the spinning globe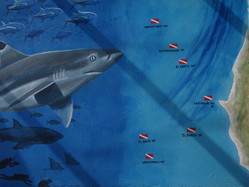 Jesse, who I hosted me in La Mision, contacted me as he was driving south towards La Paz. He arrived one or two days later and we went together for diner with friends of him. With couch-surfers Eduardo, from La Paz, and Matthew, from Chicago, we went to camp on the beach.
The weather had been a bit rough for the last few days, and several divers were already waiting for the sea to calm down to go diving. We showed up the next morning and Mario told us we should be able to go!
We just had enough time to eat breakfast and learn how the delicious Agua de Jamaica is made, from the fresh plant to the final product.
The two 40 minutes dives were amazing! We saw a school of skipjacks (jureles), meros, stingrays, and even spotted a bull shark (tiburon toro)!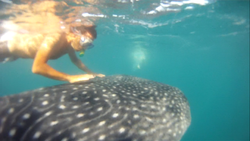 Dominic, who I had met a few days before cycling down Baja, found me easily in La Paz. He had arrived the day before, and was proposed me to go snorkeling with the whale sharks. Let's go!
The whale shark is the largest fish living on this planet! It leaves for about 70 years, and it likes to cruise the Sea of Cortez, just one mile away from the Malecón.
Jorge took us there with his little lancha, and soon we were jumping in the water next to an impressive shadow. The first two times, the shark was going too fast for us to follow him. We touched him briefly, but we were told only later, no touching! Oops. ... more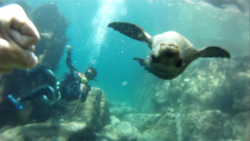 Maria and Dani, from Spain, came to visit us one evening. They were curious about the bicycles, and went in for a chat. They had arranged to go diving the next morning with our next door neighbours, the diving club. Maria really wanted to do this dive, a special one: diving with sea lions.
"Can I join?!" I asked right away. The next morning, we were boarding La Encantada with Arturo and Sergio for a one hour ride to La Lobera, just a few miles North of La Paz, next to Isla Espiritu Santo, for two immersions of 40 minutes each, just near the colony of sea lions.
Arturo explained us carefully to let the lions come to play with us, instead of us going to play with them. Adults should be avoided, especially males, since they can inflict severe bites. Juvenils of the year, only a few months old, are the curious and playful ones. We were lucky, and about half a dozen of them came checking out our fins, smelling our hair, and biting our hands. ... more