scratching the surface of the spinning globe
»
«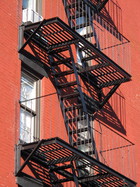 After a good three months North of the 60º Parallel, I took one of these strange machines that we usually call planes. They make you travel so fast you tend to forget the distance covered. From Nuuk to Reykjavik, the flight lasted less than 4 hours. 4 hours to fly over the 10 days of sailing we just did.
A couple of hours more and I was queuing amongst US residents to board on another of these huge machines, about to take off to New York City. We flew once again above Greenland, and soon over Newfoundland. As we landed in Newark, I watched the sunset for the first time in almost 100 days in the Arctic.
In New York I have been incredibly lucky to be hosted by the amazing and wonderful Geetika, a friend of Maya who I had met at Maya and Cyril's wedding. She has a beautiful flat in East Village, a friendly neighborhood in downtown Manhattan. The next morning, I went for some specific shopping: I got myself a longboard. It was just amazing to be able to go around the city skating.
The first week-end was busy. Saturday morning, there was a longboard marathon hapening on Governor's Island, and in the afternoon, Geetika was performing with the amazing New York Kathak Ensemble at the Baruch Performing Arts Center. On Sunday, we decided to get out of the city for the day.