scratching the surface of the spinning globe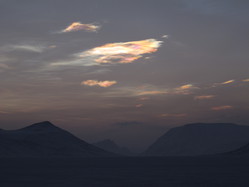 That morning, it was tempting to go explore the ice a bit further. On the nearby peninsula, I could see some dogs. With the binoculars, I even thought I could see a group of three people. So despite the silence on the radio channel of the village, I headed off to cross the fjord by foot.
Three kilometres of suspense hiking on water, the ice pick in my hands to test the ice ahead of me. As I got closer, the human shapes I had seen on the peninsula became some old rusty remains again.
But the prints of dogs in the fresh snow were not lying: at least, they had made it through. I kept going.
About forty minutes later, I was at the village, moved and relieved to reach solid ground and civilisation.
A memorable evening at Yves and Céline's, with Anita, Andrew, and Mark, sharing good meals and playing music. I could not dream of a better way to break up with my solitude.
«