scratching the surface of the spinning globe
»
«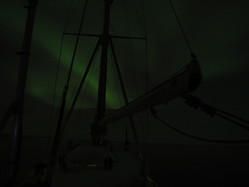 Already three weeks on board, and I still have a serious pile of books to read, and a a long list of things to do. I tried though, to make use of a full week of heavy snow falls to stay warm inside and get used to withstand the siege of the ice.
And snow there is, a lot this year. Even locals seem to agree on that. It is good news: more water for spring, and less stones under the skis.
Friday, movie night at the Hamlet, the town's council house: Céline had organised the projection of "Vanishing Point". A chance for me to meet part of the community, and to fill my eyes with smiles amongst all these kids.
Saturday, back on the boat, I almost wished it would be my last ride on the water. But the ice didn't seem to come. An elder was remembering how a few years ago, the little bay where the boat is was freezing much earlier; they would come to hunt seal.
Yesterday afternoon, a boat approached before turning around Vagabond: Yves, Céline, Anita and Andrew came to pay a visit! So nice to have guests on board, and share the delicious food they brought.
Tonight, clouds made place to a sky full of stars, and a vast brush came to paint a dim green light: my first northern lights.
When I went out to admire the show, I felt a strange silence, and found the boat suprisingly still. The ice has started forming around the boat.