scratching the surface of the spinning globe
»
«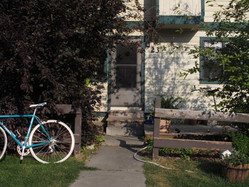 After almost 6 months travelling, I still hadn't paid for a single night, and only once, in Toronto, I was hosted by a fellow CouchSurfer, Dylan.
In Jackson Hole I started looking for a nearby sofa to crash on. It didn't take very long. In less than two hours, my phone was ringing: Meggan, one of the couch surfers I contacted, told me it was no problem for me to stay at her place. Sweet!
That evening, with my backpack and my skateboard, I arrived at Meggan's house 5 minutes before her. Over the phone, she told me to enter. I wasn't sure, didn't dare, but she really meant it: her house is open. No keys needed here! I had a great time with Meggan and her friends, and spent not one but four nights in her home, a very sweet home.
Also on CouchSurfing, I learned about Xavier, a French guy travelling around the world and who was also Jackson Hole. I sent him a message and went back at doing photo backups and writing my diary.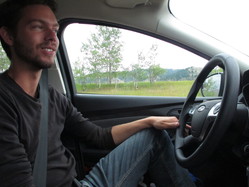 A few days later, as I was getting ready to hit the road again, Xavier gave me a call. He had a car, and was also planning to drive down South, across Utah and all the way to San Francisco.
One or two coffees later, it was pretty obvious that we should share the road: we were both happy to have some company, and glad to find a car sharing solution. It seemed like somehow I wouldn't need to hitch-hike in the States.
Xavier is travelling around the world for the next two years. He is a teacher, and expert at natural risks: earth quakes, flooding, eruptions, typhoons... He also happens to be an expert at surfing couches, and within half a day, he called all the hosts he had contact with for the next 10 days on the road, asking them if it wouldn't be a problem to come with me an extra guest!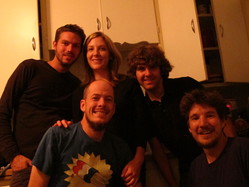 We drove from Jackson to Salt Lake City, a 500 km ride, passing by Bear Lake, somewhere between Idaho and Utah, and little villages with familiar names, such as Montpelier and Paris.
Justin, our host in Salt Lake, was waiting for us to go to a barbecue at Matt and Liza's place, who were preparing for a Canyonneering and Beer Tasting week-end... Hold on, Canyoneering in Utah, we were all up for it! We told them we will try to join them, two weeks later, somewhere in the middle of the state.
After we visited the Mormon temple, or rather the garden around it since you can not enter, Xavier wanted to check out the famous genealogy archives of the Mormons. I played the game and ended up digging microfilms of French birth records dating back from the French revolution.
On the road again, and we were driving South East, 500 km more to reach Arches National Park. We arrived at night, watched the stars in the clear sky of the desert, and went down hiking the Primitive trail at night to sleep on a rock, somewhere near Double O Arch.