scratching the surface of the spinning globe
»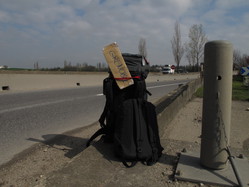 Today was my last day in Barcelona. I finished cleaning up the flat, then went in the upper part of the city to give back the keys. I am know in the street with my backpack and another one heavily loaded with electronics: hard disks, laptops.
Elena gave me a ride to the first gas station on the highway, North of Barcelona. With the help of the Polish Windsurf Youth Team, in a van loaded with heaps of windsurfs, a German guy, with his trunk loaded with stepper bikes, and a few more early morning workers, I reached Grenoble, just in time to finish lunch with my brother and Xtoo.
A big thank you to all my friends who helped me packing my things and emptying the flat until the last minute. I already miss you. Don't forget to join me some day on the road.