scratching the surface of the spinning globe
»
«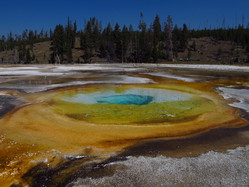 We woke up in the car after a cold night, drove the last few miles to the East Entrance, and entered the park. A nice rock with view on the Yellowstone lake became our breakfast table, where we made some tea to warm up.
As the girls were driving from the South, we started exploring the huge park with Trevor, going from waterfalls to thermal springs, from forest to lakes and rivers.
After a bit of suspense made of canceled reservation, fully booked campground, lack of cell phone coverage, and messages left to the rangers, the girls managed to find us at our campsite in Grant Village.
More than one month later and on the other side of the continent, it was really nice, and also a bit surreal to meet here with Geetika, Smitha, and Saritha.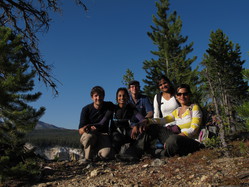 We spent three days driving and hiking in the park, watching bison and coyote next to the road, spotting elks on the other side of the valley, and looking for bears and wolves. Trevor and I even went for a swim in the Yellowstone Lake. A short swim.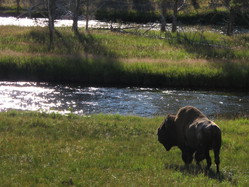 The nights are pretty cold already, and it was nice to gather around the fire before sliding into our sleeping bag. On Monday morning, we drove North to Mammoth Springs, then east along Lamar Valley.
I was surprised to learn that wildfires are not fought as they are in Europe. Here instead, nature has the last word and wild fires are left running, often for days, unless it reaches unhabited zones. Nowadays vast zones are also heavily damaged by the mountain pine beetle.
Before we reached the North-East entrance, a heavy smoke started coming out the left front wheel of Trevor's car. The brake pad was over heating. As the night was falling, we asked a ranger if we could sleep here, in the middle of this valley, known to be home of many wolves and buffalo. We said goodbye to the girls, who had to drive North to take their plane back to New York, and started cooking diner.