scratching the surface of the spinning globe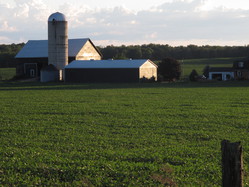 From Dyer's Bay on the Lake Huron, I started hitch-hiking South to Niagara Falls. John and Elisabeth, from Toronto, gave me a ride from Crane Lake Road to Highway #6. I didn't even have the time to find my jacket in my bag, that Bob and Doddy were already stopping their car.
Bob and Doddy have a farm in Ontario where they raise calfs and grow wheat, soya beans, and corn. They gave me much more than a lift. They invited me for diner, offered me a shower, a laundry, and a bedroom in their beautiful farm. Thank you, thank you, thank you!
The next morning, their daughter drove me to Orangeville. From there Denis the bartender gave me a ride to Brampton, where I got a couple of bus tickets for Niagara Falls. I climbed in the first bus, changed at Bramalea, and as I was sitting in the second bus, I realised I had lost my diary. The notebook I write in everyday, all my notes since Iceland, plus a lot of contacts, were lost. No way! ... more
»
«