scratching the surface of the spinning globe
»
«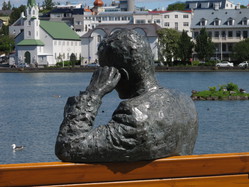 I thought hitch-hiking from the middle of the desert would be pretty tricky, but it ended up being even easier than on the Ring Road. The first car that I saw stopped by and its passengers, a French family of four drove me all the way to the Ring road.
I decided to go back early in Reykjavik to enjoy the city from the nice flat of Andie. Mike took me to the gym for a bouldering session, and I spent some time writing in the cosy cafés of the city.
I was getting my things ready to board for a plane to New York, contacting people there to find a crash space. But that was before I went to the harbour to check out the sailing boats...