scratching the surface of the spinning globe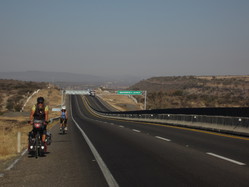 The next morning, I caught up with Marie and Chris who were waiting for me at a bus stop, just outside Aguascalientes, on the road to Leon. We teamed up to cycle South together. After 3000km, it was nice to share the road with other cyclists!
We camped in the bush a couple of times, cooked delicious pastas on our stoves, and enjoyed sunsets and sunrises. Passing through Leon, two journalists stopped us for an interview!
For our last night camping before arriving in Guanajuato, with the kind blessing of the local farmer, we enjoyed a beautiful star gazing night. We woke up the next day to ride the last 10km to the city.
«