scratching the surface of the spinning globe
»
«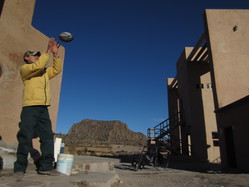 It's about 300 km to cycle from Durango to Zacatecas. It took me four days. I spent one of them hiking in the Sierra de Organos, some strange columns in a National Park of stone not far North from Route #45.
I had four ranger guides just for me! We went hiking in caves, climbed on nice view points and climbed some nice stones. At night, they proposed me to stay at the ranger quarters! I had my nice little flat, just above the National Park gate, and the guard that night was happy to have some company.
I also spent a nice night with the stars next to a chili factory, and another one at the lovely Raimondo's ranch. When I asked Raimondo, I ended up with a full house, with kitchen, bathroom, hot shower, and was even invited to share coffee with his mum. Thank you!