scratching the surface of the spinning globe
»
«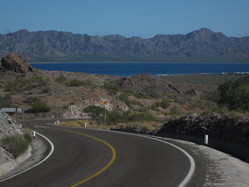 I woke up in a beautiful field of date palms and went to get breakfast in the center of San Ignacio. Here I met Rodrigo, a cyclist from Mexico City. Rodrigo has been cycling from Ushuaia to Mexico, then flew to Alaska and started cycling South. After only 8 months on the road, he was just a few weeks away from getting back home and completing a 30,000km journey.
I left one hour after him, towards Santa Rosalia. After a few hours across the desert, I was looking down over the Sea of Cortez, on the East coast of Baja California, for the first time. In Santa Rosalia I went to check the church designed by Gustave Eiffel and met Rodrigo again. We installed our camp and shared diner next to the beach.
After a solid breakfast, we took the road. South of Santa Rosalia, the road goes by the village of Mulege before reaching reaches Bahia Concepción, a large and well protected bay in the Sea of Cortez where whales like to stay. Rodrigo went faster than me. After going pass a few beautiful beaches, I could find no sign of him and decided to sleep on the beach right at the end of the bay.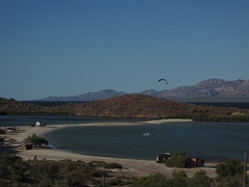 The next morning, I woke up to discover that 6 of my rear wheel spokes were broken. I was only 50km away from Loreto, but after about 45km, a seventh spoke had broken, and my wheel started to be really bended, so I decided to hitch a ride. Within a few minutes, a white huge pick-up truck stopped by. It was probably very new, and as he was helping me to lift the bike at the back of the truck, the driver told me "No me rayas el carro, wey!" — "Don't scratch my car, dude!".
Arriving in Loreto, he asked a few people where to go, and took me all the way to Mani's bicycle repair shop, in the center of Loreto. Mani had only spare spokes longer than mines, but "Everything can be fixed in Mexico". He had to rebuild the wheel entirely, using two different lacing for each side of the wheel. I sat there to watch, and had a chat with Tuku, a kayak guide working here in Loreto who also had his bike fixed.
Back at the Bike Kitchen, it had taken me about five hours to build that wheel. But I had probably put too much tension on one side, which caused the spokes on that side to break. In less than 20 minutes, Mani, with his golden hands and 40 years of experience, had my wheel rebuilt, trued, and much more solid than ever.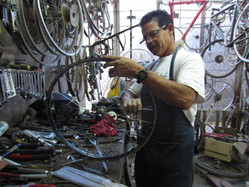 Tuku invited me to eat some delicious toro fish at his house. He told me a bit more about his job and kayaking in the region, and gave me a very useful present: a big water bag that can contain up to 6 liters of water. It sure would look better than plastic bottles tied to my panniers, and with long stretches of desert far from any village or gas station, it was also much needed.
Rodrigo was cycling fast, very fast, and for long distances. At a lower pace, I managed to follow the distance, and for three of four days we kept bumping into each other on the road, cycling between 140 and 180km each day. We arrived together at La Paz, after a hilly and windy day, just in time for a beautiful sunset on the Malecon.
Rodrigo had already been cycling in Baja California, and knew Miguel, who runs a bicycle shop just a few meters from the beach on the Malecón. Miguel welcomed us warmly and offered to host us at his house. After 1,700km from Tijuana and twelve days in the desert, it was good to find a roof.