scratching the surface of the spinning globe
»
«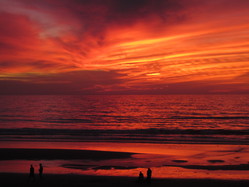 The night in San Diego was a bit rough. I was awake until late, didn't look for a CouchSurfing host, and couldn't find a nice place to pitch my tent, so I just slept a few hours on a bench in Little Italy. I got woken up early by the waiter of the nearby café that was opening its terrace. I went in to have a coffee.
From San Diego, I cycled the 30 km to reach the border. Avoiding the freeway was not so easy, since many of the locals had no idea how to get to the border by bicycle, and advised me to climb in the trolley bus instead. But after getting lost a few times and looked at strangely by one or two Border Patrol trucks, I reached at the Mexican border, had my passport stamped, and started cycling in Mexican land.
Just on the other side of the border lies the city of Tijuana, right in the corner of Latin America, the most Northern and Western point of the continent where Spanish is primarily spoken. Each year several hundred of thousands of migrants cross the border, and each year hundreds of them are killed.
A few hours earlier, I was not sure whether I would spend a night in Tijuana or just keep cycling to go camping outside town. With only a few hours notice, Zzara had replied to my CouchSurfing request and was waiting for me. In the beginning of the afternoon, I had reached Avenida Revolución and was making my way to the Cultural Center where I met with Zzara and François, another French surfer already installed at her place.
For the past three months, almost everyone in US told me I should be very careful in Mexico, and especially Tijuana. Many people actually told me that it was a completely mad idea, and that if I really had to do it, I should take a bus to get away from this city, certainly not cycle it. Most of them had never been to Mexico. The few who had were very encouraging.
I was happy to be back in Spanish speaking land, ended up spending not only one but four nights at the house of the wonderful Zzara, had diner with her friends at her place, joined the Grupo de Ciclistas for a night ride in the city, made friends with a few of them, crawled nice bars and funny dance halls of the town with Zzara and François, went to the beach cycling, played piano at Café Latitude 32, and watched an amazing sunset for my birthday.