scratching the surface of the spinning globe
»
«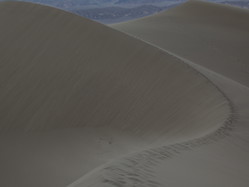 We drove North West outside Las Vegas and took a left at Beatty. For ten kilometers, the road was following a straight line before entering the State of California and Death Valley National Park. We stopped to cook lunch for a while, and just as we were packing our stove, felt a few drops of rain. Somewhat surprising in one of the driest spot of North America.
The rain didn't last, and we went for a little hike on the gigantic sand dunes of Mesquite Flat. From the distance, we saw the wind picking up, lifting the sand in whirly motions, and approaching quickly and soown we were running back to the car, protecting our faces and our camera with our shirt from the sand.
We kept driving across the national park, crossed its several mountain ranges, took a right at Lone Pine to drive North all the way to Mammoth Lakes, passed the ski slopes above Mammoth Lakes, and found a nice view point on Devils Postpile where we cooked diner and sat up our camp for the night.