scratching the surface of the spinning globe
»
«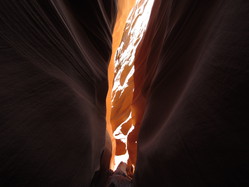 We woke up Friday morning to drive to the Sandthrax campground, where the Canyoneering and Beer Tasting week-end was taking place. On the road we passed by Capitol Reef where we stopped to observe some quite surprising petroglyphs. We went for a swim in the Lake Powell that afternoon and came back as people were arriving at the campground.
We were 25 people, and it was quite a change for us to teleport into such a large group! From backpack camping to car camping, from my little fuel stove to the huge propane barbecue, from our little car to the dozen of huge trucks and jeeps, I was, again, supersized. We had a great time this week end, and a lot of canyoneering and beer tasting.
We splitted in three groups to go down different canyons, and our group went down 2 beautiful dry groves, carved by the water that runs down in mighty torrents whenever it rains. We learned about bridging, side stepping and other funny movements to progress into the sometimes very narrow canyons. Of course, we did think a couple of times about a famous film that came out earlier this year.
Matt, Lisa, Kim, Ryan, Alicia, Joseph, Ken, Christina, Mitch, Jen, Justin, Ben, Sandy, Steve, Jona, Aaron, Aaron too, Doug, Andie and your dog Disco, Liz, Annette, Tom, and Beth, it was great to meet you all.
The nights in Utah are amazing. Cold, dry, and impressively full of stars. On Sunday morning, we had a nice Yoga introduction by Kim and a solid breakfast before hiking up for the second canyon. We ended the day back at the lovely house of Lyman, and I joined him for 2 hours of Zendo meditation on Monday morning.