scratching the surface of the spinning globe
»
«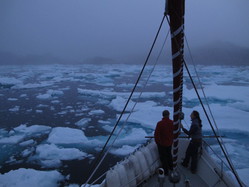 Our two younger crew members went off the boat in Narsaq, and Carlos, a french cook working at the embassy in Tunis, joined us. We first went to visit Ipiutaq, the farm of Kalista, Agathe and their daughter Ina. Agathe is French and Kalista is Greenlandic. A few years ago, they took on the adventure of starting a farm in South Greenland. It was really nice to discover their life, and to spend some time on a solid ground.
We then sailed to the North, and soon ended up blocked by the ice in a narrow fjord, at 2AM. After a night watching out the boat, we took out the ice poles in the morning and started pushing. After about two hours, we managed to reach the open water again.
We had a good weather sailing northwards up to Nuuk, despite a thick fog that prevented us from seeing the huge glaciers coming down to the sea. At 4AM in the morning, we arrived in the harbour of Nuuk, capital of Greenland.