scratching the surface of the spinning globe
»
«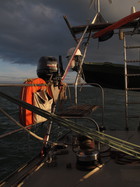 On May 13th, surrounded by a few boats and kayaks, six of us left Brest: Eric, my brother and our captain, Vincent and Lea, a couple of young French people, and Arthur and Arnoul, 17 years old, two young recrue from the French military naval school.
Stopping by in Scilly islands, we first went to Limerick Harour, Ireland, were a film making crew was waiting for us. We had a beautiful day filming the boat amongs the thousands of guillemots who live in Saltee islands.
Two big lows were moving across North Atlantic, so instead of going West, we decided to sail East and then North across the Irish Sea.
Before arriving in Islay, Eric managed to repair the compass of the auto-pilot, so after a few days of training at steering the wheel, we could rely on our old friend Robertson to do it for us. We spent only about half a day moored in Port Ellen before heading West to cross the Atlantic.