scratching the surface of the spinning globe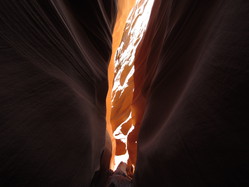 We woke up Friday morning to drive to the Sandthrax campground, where the Canyoneering and Beer Tasting week-end was taking place. On the road we passed by Capitol Reef where we stopped to observe some quite surprising petroglyphs. We went for a swim in the Lake Powell that afternoon and came back as people were arriving at the campground.
We were 25 people, and it was quite a change for us to teleport into such a large group! From backpack camping to car camping, from my little fuel stove to the huge propane barbecue, from our little car to the dozen of huge trucks and jeeps, I was, again, supersized. We had a great time this week end, and a lot of canyoneering and beer tasting.
We splitted in three groups to go down different canyons, and our group went down 2 beautiful dry groves, carved by the water that runs down in mighty torrents whenever it rains. We learned about bridging, side stepping and other funny movements to progress into the sometimes very narrow canyons. Of course, we did think a couple of times about a famous film that came out earlier this year. ... more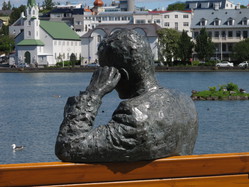 I thought hitch-hiking from the middle of the desert would be pretty tricky, but it ended up being even easier than on the Ring Road. The first car that I saw stopped by and its passengers, a French family of four drove me all the way to the Ring road.
I decided to go back early in Reykjavik to enjoy the city from the nice flat of Andie. Mike took me to the gym for a bouldering session, and I spent some time writing in the cosy cafés of the city.
I was getting my things ready to board for a plane to New York, contacting people there to find a crash space. But that was before I went to the harbour to check out the sailing boats...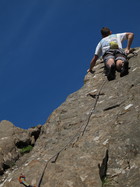 I spent the first few days in Iceland enjoying sunny Reykjavik and reconnecting to the net. Andie showed me her amazing work place, and I met her friend Rory.
Tonight, with Rory, Mike, and Ian, two other colleagues of Andie, we went to climb on a few rocks in Hvalfjörður, a couple of fjords North of Reykjavik. We had a beautiful sunshine over a sea of cloud and it was great to be back in the harness, belaying or climbing away.
I also bought enough food for 6 to 8 days, and my backpack is ready to go. Tomorrow I will go to Skògar to start hiking.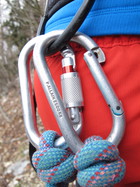 Yesterday we went off to grab a tandem at the train station. They have these city bikes for rent by the council for quite cheap, and one of them is a tandem bike. We packed a few clothes and a lot of water and left in the evening to go the house of Romain, who leaves 60 km from Grenoble.
The cycle track along the Isère river is really nice, and it was quite magical to cycle it until after dusk, synchronised on the tandem. We then had to climb a few kilometers of road up until the house, and finished cycling at about 9pm, after a bit more than three hours.
Romain was waiting for us with in his beautiful house, with a nice meal. His kids were already in bed, and when we woke up in the morning, they had already left for school. He prepared some gear and we drove off to the start of the Via Corda of St-Julien-en-Vercors.